Selecting the right rugs for your home can be a daunting task. With so many choices from which to choose, it can be challenging to envision the perfect rug for your interior design. But whether you need to protect hardwood floors, add color to a room, or love cozy comfort, it's essential to choose the right rug for your home.
Here are some tips to guide you in the right direction.
Consider The Space
Start by considering the size of the room and how the area gets used. Doing so can help you determine the best rug size and shape for the room. For example, a large rectangular rug can make a small room feel bigger, while a round rug can add a cozy element to a larger space. Alternatively, a long runner-style rug would suit your requirements if you need to protect or add comfort to hallways.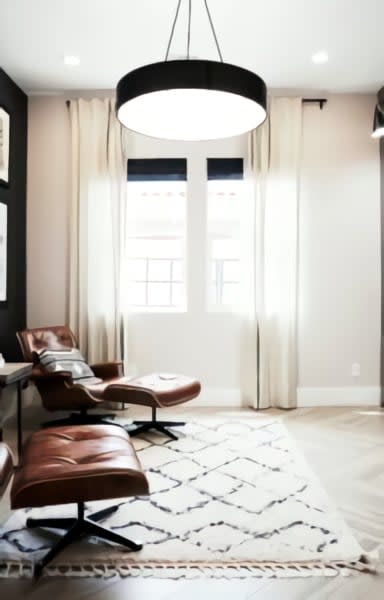 Choose The Right Material
Rugs are available in multiple types of materials, and the material you choose will impact durability and how easy it is to clean and maintain. Wool, nylon, and polyester are all popular choices because they are durable and easy to maintain.
Choose The Color
The rug's color will significantly impact the look and feel of your room. Choose a hue that complements the existing decor and creates your desired aesthetic. And remember that darker or more colorful rugs can disguise dirt and contaminants better than lighter color rugs. As part of a modern design, muted tones such as beige, gray, or navy blue are popular options. Or consider a deep red, burgundy, or forest green for a more traditional look.
Consider Patterns
Selecting a patterned rug can be a great way to add character to a room. From geometric designs to floral motifs, there are plenty of patterns from which to choose. Among the most popular are Oriental rugs. These rugs are recognized for their intricate designs and rich colors, often featuring motifs such as flowers, animals, and geometric patterns. Oriental rugs are highly valued for their beauty and craftsmanship and often become family heirlooms passed down from generation to generation.
Rug Texture
The rug's texture can also significantly affect the room's overall feel. Popular rug textures include Berber, shag, sisal, jute, chenille, and velvet. Each texture has its unique feel, ranging from plush and cozy to rough and natural. Depending on the desired look, feel, and rooms use, you may prefer one texture over another. For instance, a shag rug is ideal for a casual, relaxed living room, while a sisal rug is excellent for an office or study area.
With research and thoughtful consideration, you can find the perfect rug that fits your needs. So whether you want to add warmth and texture to a room or liven things up with an area rug featuring bold colors and patterns, there's something for every room in your home.
If you are planning on buying or selling a home in Colorado Springs, please get in touch with me first to start the conversation!